Laser Hair Removal in Vancouver
Voted #1 Laser Hair Removal Clinic in Vancouver, BC!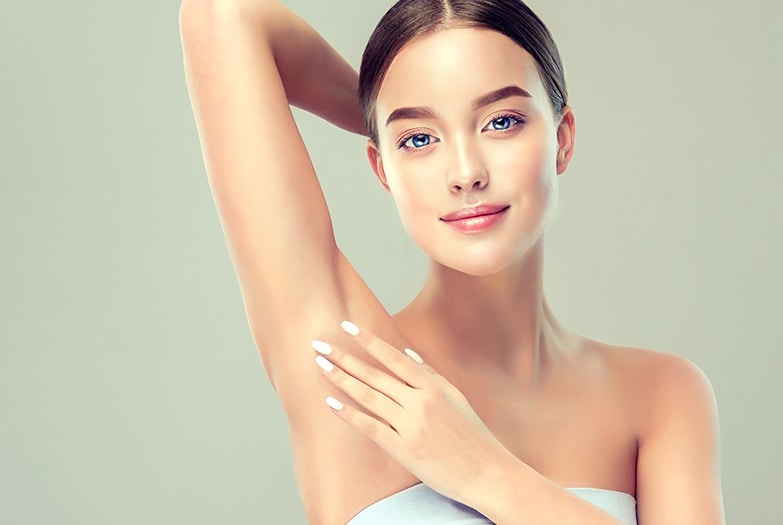 How Does Laser Hair Removal Work?
Laser Hair Removal is a treatment used to reduce unwanted facial and body hair. While some hairs cannot be reduced entirely, about 70% to 90% of hair is reduced after 6 to 8 treatments on average*; any remaining hair is finer, lighter and more manageable. Convenient and easy lunchtime laser hair removal treatments will reduce the inconvenience of daily shaving, waxing and tweezing.
Laser hair removal works by using a targeted laser to avoid future hair growth. A technician uses a handheld laser unit that emits a concentrated beam, set at a wavelength that targets the melanin in the hair and/or at the follicle growth center (called the hair bulb). Melanin is the substance in our body that gives color to our hair and skin. 
The laser beam passes through the skin and is absorbed by the melanin in the hair follicle, damaging the follicle enough to prevent future hair growth ranging from months to years, the final result being smooth, hairless skin.*
*Individual results may vary 
Benefits Of Laser Hair Removal
There are many different reasons people choose to undergo laser hair removal, often for the long term results associated with the procedure. Many people enjoy the benefit of reducing the amount of time spent removing hair by shaving or waxing, and in a gentle manner that gets rid of ingrown hairs and painful bumps associated with other hair removal methods. The treatment is relatively quick and safe, and most people have little irritation as a result of the procedure. 
Undergoing laser hair removal treatment can also save money over time. While it may cost more upfront, the savings over shaving and waxing regularly can be substantial.*
At Yaletown Laser Centre, we are proud to offer advanced, results-driven laser hair removal services using the latest laser technologies. During your complimentary consultation with one of our certified Vancouver laser hair removal technicians, you will receive a comprehensive treatment plan based on your unique goals.
Reduce unwanted hair on the face or body
Reduce ingrown hairs over time
Shaving allowed in between sessions
Minimal to low downtime & discomfort*
Voted Best of the City 2014, 2015, 2016 & 2017
*Individual results may vary 
Am I A Good Candidate For Laser Hair Removal?
Laser hair removal is an ideal way to remove hair for a long period of time. Anyone seeking smooth, hairless skin without dealing with skin irritation associated with shaving or waxing will find that laser hair removal is an ideal option. When it comes to skin type, any skin type can be treated safely with the GentleMax Pro system we use; however, the ideal candidate for this procedure has hair that is darker than his or her skin color. This is because the laser targets dark pigment, so it works best when the hair color is darker than the skin surrounding it.
Laser Hair Removal Treatment Areas
Laser hair removal is beneficial in reducing the amount of hair growing on just about any area of the body. Many people enjoy the precision of it for facial hair especially. It is most commonly used for reducing unwanted underarm hair, leg, arm, and bikini areas. Other areas include the back, shoulders, buttocks, chest, and feet. If you have unwanted hair just about anywhere on your body, talk to us about what you'd like to achieve from laser hair removal and we will help guide you to the best course of treatment.*
*Individual results may vary
Unveil Silky Skin:
Book Your Laser Hair Removal in Vancouver
Ready to say goodbye to unwanted hair and embrace the confidence of smooth, hair-free skin? Take the first step by scheduling a laser hair removal consultation at Yaletown Laser Centre.
Simply fill out the form on this page, and one of our experienced team members will reach out to you promptly to schedule your consultation.
How Long Does A Typical Treatment Take?
It is very important to maintain your treatment schedule every 4-6 weeks, depending on the area, as the hair is on a specific growth cycle. The Gentle Max Pro system, along with experienced technicians, allows for extremely efficient sessions that last between 10-45 minutes depending on the size of the area; this is 2-3 times faster than many other systems.*
How Many Laser Hair Removal Treatments Will I Need?
The average patient starts with 6 treatments and will see significant results; however, more laser hair removal treatments may be required for more reduction or maintenance, especially when treating areas on the face or for male patients due to hormones.*
*Individual results may vary.
Is Laser Hair Removal Permanent?
When it comes to laser hair removal, the results are typically long-lasting, sometimes for several years. Overall, general hair re-growth will be reduced with treatments, but hair can eventually grow back, though not as thick as before. The FDA approves the treatment for permanent hair reduction. After initial treatments, many people find that they return for touch-ups six to twelve months following, though these appointments are typically quicker as there is less hair to remove. As treatments continue, most people find that they have significant, long-lasting hair removal, though it varies depending on the individual person and their hair type.*
*Individual results may vary
Most patients have minimal to low downtime after a laser hair removal session. There may be slight redness in the treated area for approximately 2-24 hours following the treatment.* During this time, it is recommended that patients avoid activity that will increase the temperature of the skin such as using a steam room, performing vigorous exercise, and exposing the treated area to the sun unprotected. It is also recommended that patients do not undergo any form of hair removal other than shaving during the course of treatment.
*Individual results may vary
Will Laser Hair Removal Hurt?
The Gentle Max Pro laser hair removal system has a sapphire chilled tip that ices and comforts the skin at all times during the treatment. A mild snapping sensation is felt on areas like the arms, legs and back, with a slightly stronger sensation typically felt on more sensitive areas like the upper lip, bikini, underarm and chest. Once the session is over, there is low to minimal discomfort. *
*Individual results may vary with different individuals.
What Results Will I See?*
The hair will look as if it is growing normally after each session and then will gradually fall out over a 2-5 week period; this may or may not be a noticeable process. After other laser hair removal sessions, the reduction will not be as drastic as after the first treatment, but the hair will steadily get finer, more sparse and grow more slowly.*
*Individual results may vary
There's minimal or no downtime associated with our laser hair removal treatments.
What Is The Difference Between Laser And IPL?
If you don't know the difference between laser and IPL, you aren't alone. While the concept is similar, the way in which the light is generated is very different. Lasers are a single wavelength of light, meaning that the light is pure in one color and form. This allows it to be very precise, which allows the beam to target the melanin in the hair follicle providing the best results. IPLs, on the other hand, are produced as the result of several wavelengths which can't be focused into a specific beam, which means it can't be as precise, and the penetration of light is much shallower.*
*Individual results may vary
Take the First Step

Request A Consultation
If you would like to schedule an in-person consultation, please fill out the form on this page and one of our knowledgeable medical staff members at Yaletown Laser Centre will reach out to you promptly. You can also call our Vancouver, BC office directly to schedule 604-337-0768. Yaletown Laser Centre serves the greater Vancouver, BC area.